Another great MDR experience last night and I even treated myself to a couple of desserts for the first time this cruise. If it wasn't for the fact crew are still wearing masks, then this is the nearest we have been to cruising being back to normal.
So, today is my birthday and we were in Palermo, we arrived just before 8:00 and immediately spotted Resilient Lady tied up in another area of the port, not long after that we were joined by MSC Seaside.
Our destination today was the Capuchin Catacombs of Palermo which contains the largest collection of mummified remains in Europe, in total there are some 1,284 mummified and partially-skeletonized bodies. Since being made aware of it a few years ago it has always intrigued me and today was our first opportunity to visit. It's actually quite a macabre sort of place and does highlight your own mortality.
Photography is prohibited so if you want to see what it is like, I would suggest a Google image search. To get there we decided to get a Tuktuk for the outward journey and then walk back. The trip was great fun and a bit like a James Bond car chase at times, even to the extent of taking a short cut through a car park and squeezing through almost non existent gaps in the traffic
Having discovered the route and taken into consideration the heat we renegotiated a fee with our driver Paulo, to hang on and drop us back at the cathedral which he was happy to do for an enhanced figure but what the hell, he has missed out on so much over the last few years so we were happy to do our bit for the local economy.
Our walk back took us along a straight route back to the water's edge and it was then a simple case of heading towards the ships which could be seen from some distance away.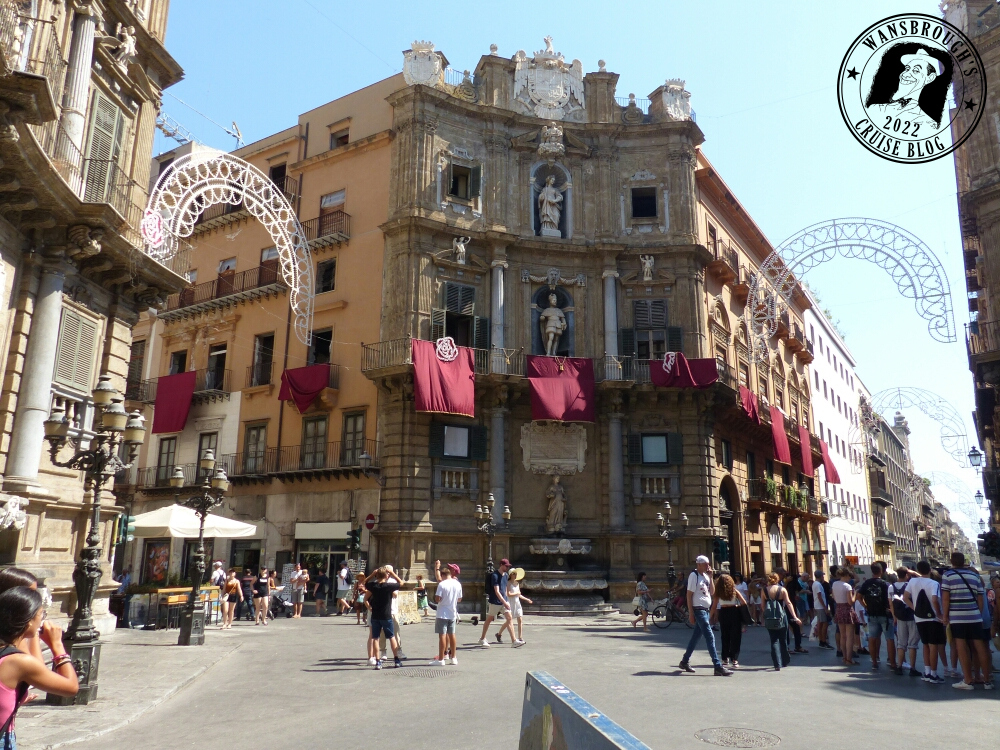 Once back on board we showered and changed, grabbed a bite to eat before spending a couple of hours in the sun. At 3:00 we made our way down to Lounge Della Moda for sailaway and a few drinks. It's not been so hot today but I have struggled with the heat a little bit, at least it's only been 32°C and not the forecasted 40°C in the UK.
It's been a lovely day albeit a bit on the warm side. It's so refreshing now to have the sea breeze as we sail away from Palermo.
---